The value of online reputation in healthcare should never be underestimated. Feedback from online review sites now features heavily in consumers' decision-making. In fact, around 95% of consumers read reviews before they buy anything!
The same applies in healthcare. Patients now choose their physician or healthcare provider by looking at reviews, ratings, and recommendations online. Social media likes, mentions, comments and shares also get taken into account.
Now more than ever, healthcare providers must be proactive in culturing positive online reviews, and ensure they monitor and respond to comments in a timely fashion. Profiles and listings must also be kept up to date and maintained.
But managing online presence is a time-consuming occupation. Large companies have whole teams dedicated to the task! The good news is – online reputation management software is making it much easier for healthcare providers to monitor, measure, and influence the public's perception of their organization.
PatientTrak's online reputation management software, developed specifically for the healthcare industry, helps providers and healthcare practices take complete control of feedback online. This blog explains how managing reputation online can be easy and trouble free.
Why is managing online feedback so important?
These days, people regularly use ratings and reviews to choose a healthcare provider. What people say about their experience, how many reviews there are, and how recent reviews are, as well as star rating, all provide insights into a provider's brand. The point is – people take notice of what they read online.
Online reviews now play a crucial role in helping prospective patients to determine which provider is right for their healthcare needs. The biggest mistake providers can make is to do nothing. Unaddressed negative reviews convey a lack of care and even poor engagement with positive reviews can create a less than glowing picture.
And it's not just patients checking out reviews. Nearly 1 in 5 healthcare workers have quit their jobs during the pandemic, so reviews also matter for attracting and retaining staff. Online reviews have a significant role to play in building a positive reputation for multiple audiences.
What does managing online feedback involve?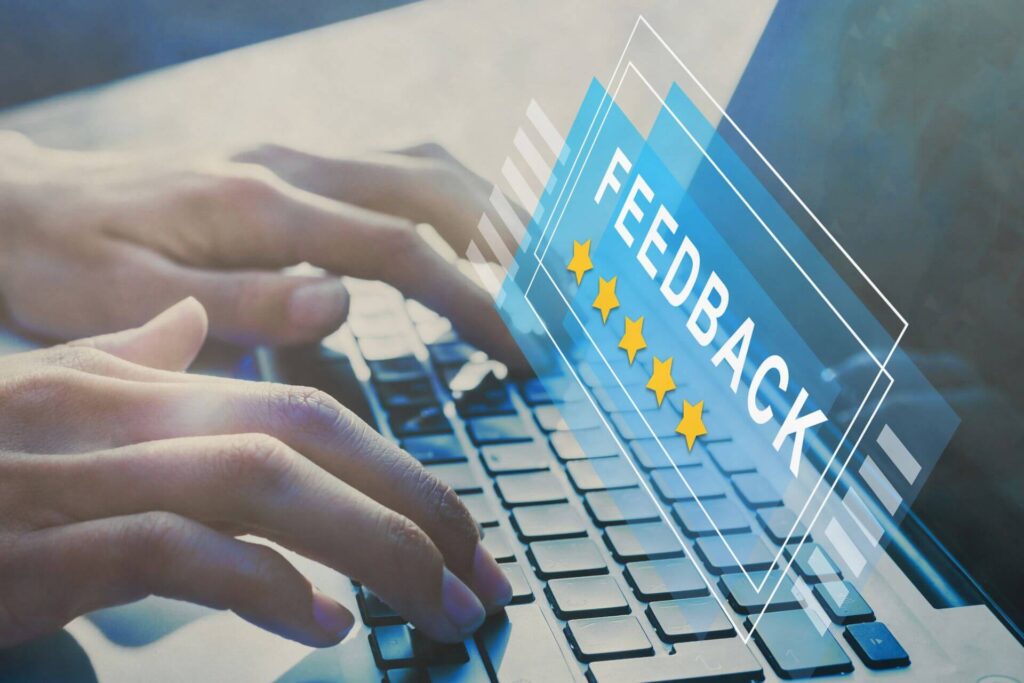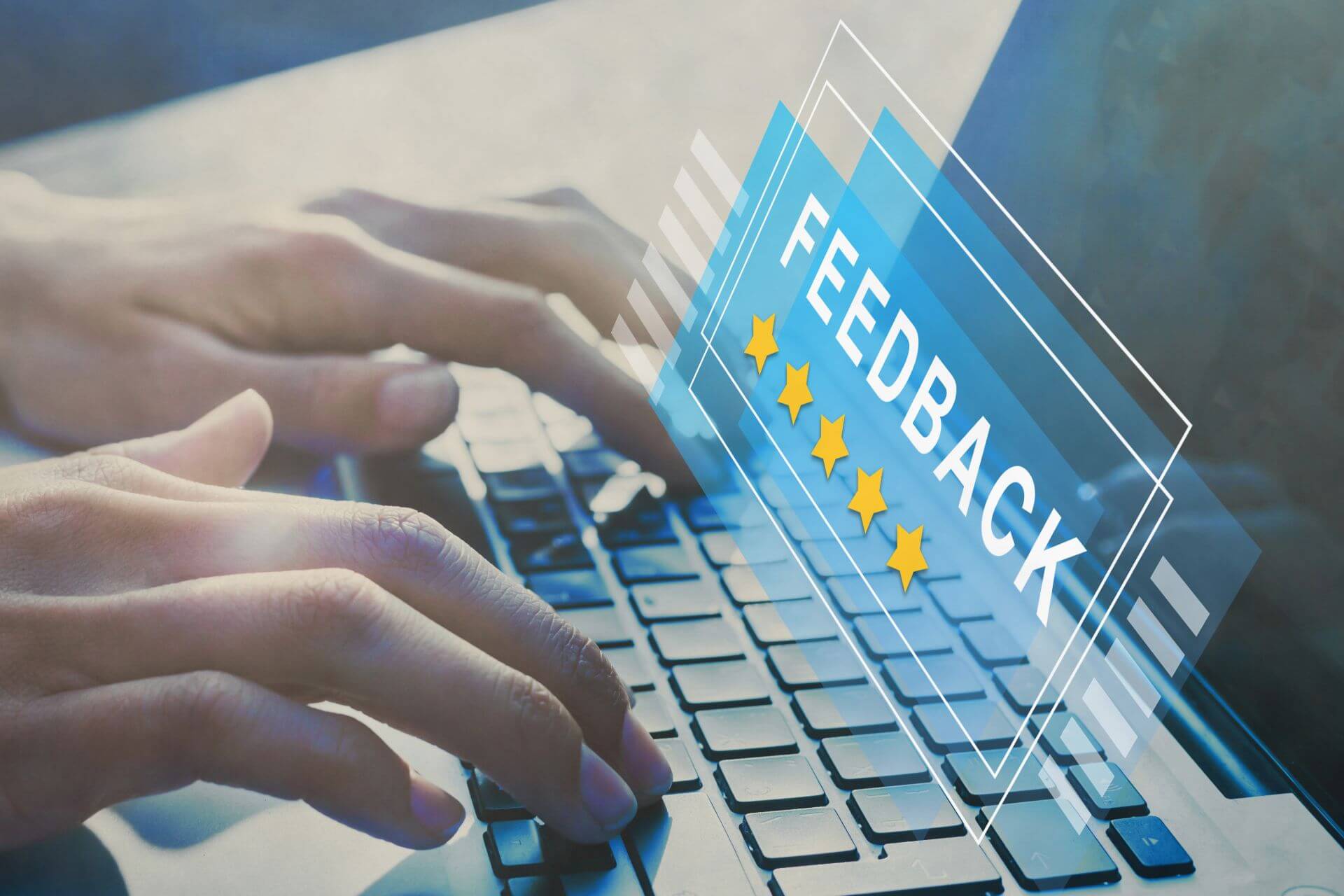 Managing online feedback involves monitoring, analyzing, responding to, and generating reviews across multiple review sites. It starts with measuring patient satisfaction, then enticing the most satisfied consumers to leave positive reviews. This means regularly surveying patients and using survey results to build reputation.
Without the right tools, it can be a time-consuming occupation! There's a whole sequence of tasks to orchestrate from surveys to eliciting online reviews and then responding to them.
With PatientTrak's software many of these arduous tasks are automated. Using our survey software you can send surveys via text message or email and capture feedback by the doctor, speciality, group, or location, or group by other factors. It's then easy to view results in an enterprise-level dashboard. Identify advocates and quickly prompt reviews to improve ratings on sites like Google, Facebook, Healthgrades, WebMD and Vitals.
Monitor feedback on all major high volume review sites and respond to reviews directly from the PatientTrak platform. From a single dashboard, prioritize and respond to negative commentary while promoting positive feedback.
There's more. PatientTrak's Listings Management software and service helps you take control of the key sites and directories to get the correct information for your physicians and locations out on the web.
How to respond to negative reviews
There will always be complaints – no one is perfect, and things don't always go to plan, especially in such an unpredictable realm like health care. It's no bad thing to have the odd negative review. What matters is how you respond. Striving for perfection is admirable, but a squeaky-clean top-star rating will invoke suspicions that reviews are fake!
When responses are fair and heartfelt, they provide a positive snapshot of your customer service, and paint a picture of how you treat your consumers day-to-day.
The important thing is to respond quickly and authentically. Apologize where appropriate and empathize. Show understanding, take responsibility, and provide an explanation where something hasn't gone to plan. Remember to always take the conversation offline if it jeopardizes a patient's privacy.
And don't forget to ask for feedback after a flagged problem has been resolved. This is a commonly missed opportunity. There is always the potential to turn bad reviews into good ones.
Managing reputation online with PatientTrak
PatientTrak's online reputation management software enables providers to:
Capture patient reviews from all the major review sites, including Vitals, Healthgrades, RateMD's, Google, YP and Yelp
Categorize and prioritize review sites and star ratings to enable swift responses
Automate the collection and display of reviews/review sites into a single easy-to-read dashboard
Monitor reviews using email alerts
Manage physician profiles and keep all online listings across the healthcare market up to date
Use our survey or your existing surveys (including CAHPS) to create patient reviews and testimonials and publish them directly to your physician directory pages
Automate the publication of reviews onto your website according to pre-defined criteria
Improve SEO, drive more traffic to your webpages and demonstrate your organization's commitment to transparency by publishing all your patient feedback online
PatientTrak's Enterprise Feedback Platform helps you capture, categorize, prioritize, manage, and report on all your online, survey and social reviews. The software facilitates useful reputation reports and enables you to easily respond to reviews across multiple review sites.
Review site monitoring
Online reviews aren't something to be feared. Patient reviews provide rich data and enable you to understand how your organization is seen through the eyes of your patients. But without appropriate software, scrolling through reviews on multiple sites is time consuming.
PatientTrak automates the collection and display of all your physician's and facilities reviews, including stars and comments from your selected review sites, into one location on a daily basis. The software enables you to track reviews, respond quickly to feedback and measure results quickly and easily.
Online listing management
Online provider and location profiles are your digital front door and as such are a critical component of patient acquisition. PatientTrak's online listings management helps you to ensure all relevant information and locations appear correctly and consistently across all key listing sites.
Check the health of your online business listings using our free listings scan. Instantly see how your most critical location data appears on Google, Yelp, Facebook, and dozens more maps, apps, search engines, and directories.
The dos and don'ts of managing online feedback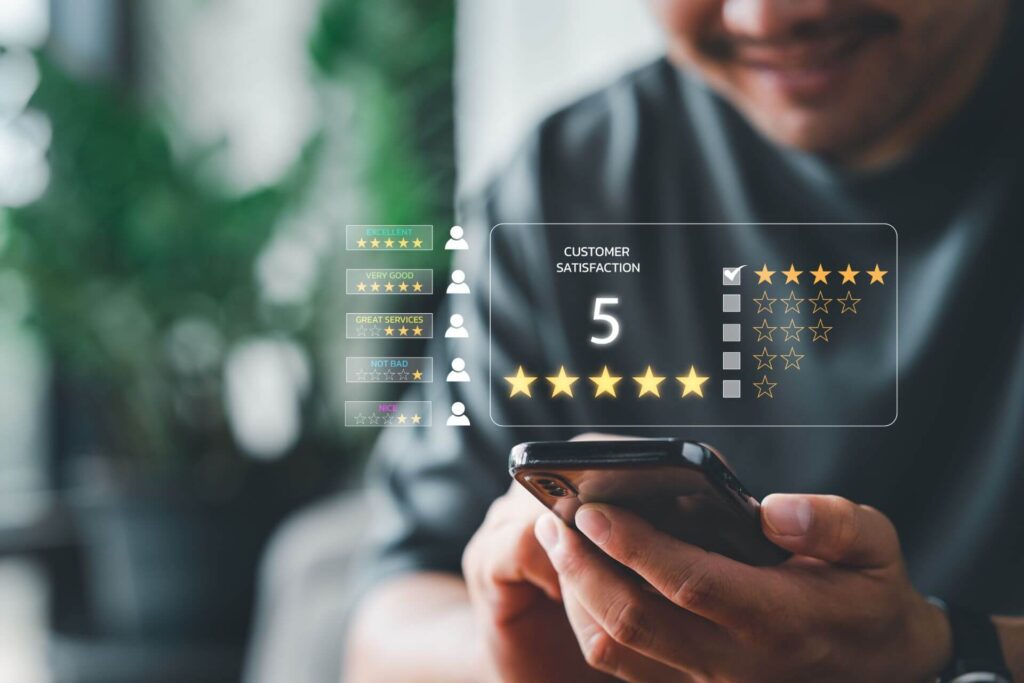 Online feedback is now remarkably powerful for reputation. Opinions are being candidly spilled online to a wide audience, so feedback can literally make or break a brand. Here are are our top dos and don'ts for managing feedback online:
Always:
Address feedback politely
Personalize messages
Keep responses professional and on-brand
Be sure to answer all points made
Make it easy for your patients to leave reviews where you want them
Move ongoing disputes offline – it's usually better to speak with a disgruntled patient than try to resolve an issue via online exchange
Speak about general policies and protocols when responding in the public domain to respect patient privacy for HIPAA compliance
Approach every response with the aim of wanting to improve your patient's experience
Never:
Delay your response
Gloss over an issue
Ignore positive comments and just focus on negative reviews – tell your patients who have left positive comments how much you appreciate them too
Take negative feedback in the wrong way/personally – always see criticism as a potential tool for improvement (remember, one bad review won't destroy your reputation)
Disclose any information about the patient
Are you ready to show the world how much you care? Take control of your online reputation and capture real-time feedback for operational improvement. Call us now to get started. PatientTrak: dedicated to making online reputation shine.