Communication in health care has never been quicker. Since the pandemic, the use of SMS messaging has grown exponentially across most sectors. Today, application to person (A2P) text messaging is the preferred method for keeping in touch with patients. It has become an important feature in all patient engagement strategies.
The rise of texting in health care during the health crisis happened because people were experiencing a significant increase in call wait times – patients were unable to quickly and easily get the information they needed when they needed it.
Virtual care exploded during lockdowns, as face-to-face communications diminished. The pandemic meant providers found it challenging to relay important information, such as safety protocols, park-and-wait instructions, and altered clinic hours, efficiently or effectively.
The solution was to utilize software applications that can text patients, instead of relying on the human and time-consuming human interaction of a telephone call. Through the use of group texts, providers can message large numbers of patients with important COVID-19 information, details about vaccinations, and the latest health advisories with the click of a button.
The biggest challenge when it comes to bulk texts is carrier filtering. How can providers be sure patients are receiving the messages that are being sent to them?
What is carrier filtering?
Carrier filtering (or SMS spam filtering) is the action phone carriers (like AT&T, Verizon, T-Mobile and others ) take to remove messages that they consider inappropriate. Filtered messages are never actually sent to the patient and this can create confusion and patient flow.
What gets filtered and why?
Filtering can run from a list of prohibited terms to advanced machine learning systems that constantly adapt according to the messages passing through them.
Essentially, filtering is all about two things:
protecting customers from unwanted messages;

and enforcing federal or local regulations.
The ultimate aim is to identify spam, fraud, and abusive messages before they reach consumers.
Is filtering the same across all carriers?
There is no standard filtering practice across all carriers. The deliverability and filtering of outgoing text (SMS) messages vary according to the consumer's carrier.
What can health care providers do to avoid carrier filtering?
It's almost impossible to find out how each carrier filters – these are closely guarded secrets! However, there are certain actions providers can take to minimise the risk of messages falling foul in the filtering process.
Understand the legal constraints
Legal firm, Foley & Lardner LLP, explain the latest Telephone Consumer Protection Act (TCPA) update, which includes Telemedicine and Texting.
In a lawsuit accusing Facebook of violating the TCPA, the Supreme Court of the United States agreed with Facebook's interpretation of the definition of "automatic telephone dialing system". In a nutshell, this means that Telemedicine and remote patient monitoring companies will have an easier time engaging with patients via text.
Health companies still have to comply with other patient and consumer protection laws, including no texts or calls to numbers on do-not-call lists, and they must also comply with HIPAA privacy and security rules. HIPAA safeguards require the introduction of access controls, audit controls, integrity controls, ID authentication, and transmission security to prevent unauthorized access to Protected Health Information (PHI).
Technically, the primary SMS (text) functionality available on all mobile phones isn't HIPAA compliant. This is because patients may not have to enter a password before they read a text message, there are no audit controls, and encryption standards may not be met, which could allow the interception of messages.
Providers should ideally utilise a secure HIPAA compliant email messaging service, which requires patients to login.
Be clear with content and keep it simple
All text messages should be clear and concise. Too much information and too many CTAs (calls to action) may get through the filter, but information overload will harm engagement.
Avoid using capital letters for a whole word or across an entire phrase. This may seem like a good way to grab attention, but it can trigger spam filters.
Poor grammar can also trigger carrier filtering. Fraudulent texts are renowned for using bad grammar.
Shortened URLs are great, but don't send links that have been shortened using shared public URL shorteners, such as Bitly. U.S. carrier policies forbid the use of shared public URL shorteners. Instead, use a service which offers a non-shared domain.
Send to small lists
Sending the same message to a vast number of people could be flagged as spam. Divide up lists and send in small batches to reduce the chance of this happening. Some software, such as the Patient Tracking and Flow solution offered by PatientTrak, will automatically do this for you.
Keep lists and content updated
It's vital to keep content fresh. Carriers can spot if the same message is repeatedly being sent to customers and this could alert a SPAM filter.
Mixing things up and keeping content fresh also helps with engagement – patients are less likely to become tired of your messages.
It is essential that patient lists are also kept up to date. A simple oversight could risk breaching confidentiality and HIPAA privacy rules.
Get opt-in from patients
The TCPA requires that consent is obtained from consumers prior to sending text or automated telephone messages, unless an exemption applies.
Only send text messages to patients who have opted-in to receive text messages from you. Patients who haven't opted in could report you to their carrier.
Ensure all messages clearly identify who is sending the message and provide clear and simple information on how to opt-out.
Avoid texting pitfalls with PatientTrak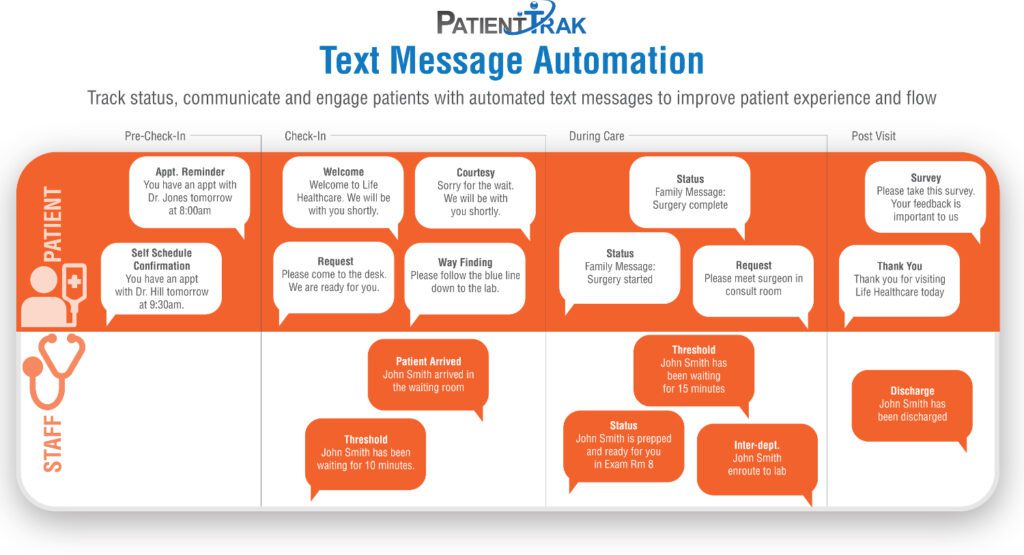 Many of the common texting pitfalls can be avoided with PatientTrak's HIPAA compliant, automated messaging system, and optional tracking and sign-in modules.
PatientTrak's Text Message Automation enables providers to track status, communicate and engage patients with automated text messages to improve patient experience and flow. HIPAA compliant messages can be sent to patients, staff, and family members, and "one-click" messages created to standardize communication and save time. Messages can also be automatically generated based on predefined criteria.
PatientTrak's broadcast text messaging enables healthcare facilities to send bulk communications quickly for specific purposes including:
Health management

Promotion of services

Administrative
It's simple to upload a list of patients from your EHR/PM system and lists can easily be managed within PatientTrak.
Contact us now to get your text messaging running smoothly. Our systems are configured to help avoid carrier filtering.