Emergency department (ED) overcrowding has become a widespread problem all over the globe.
Even prior to the pandemic, patients had to wait hours before being seen by a physician and then even longer before being transferred to a hospital bed.
The pandemic has placed additional strain on hospital EDs and now the disruption to the care routines of chronically ill people is starting to materialize.
Less than six months ago, NPR (National Public Radio) reported that the ED in a Michigan hospital was struggling to care for patients who were arriving in a sicker state than staff had ever seen. With all 72 ED rooms full, patients were lying on stretchers lining the corridor walls!
This is an all-too-common story across the world. EDs are regularly so full they struggle to take any more patients. Reducing ED patient volumes is now at the top of every healthcare provider's to-do list.
So, what are the solutions?
ED overcrowding is a complex problem to solve, especially since COVID-19 has drastically increased admissions.
While there's no single step or strategy that will quickly relieve ED stress during overcrowding, patient engagement measures present viable long-term solutions that will ease pressure and improve patient flow.
Here's how.
1. Improve capacity with telemedicine
Research shows that telehealth is emerging as a beneficial strategy that could help to decrease the number of ED visits. While telemedicine existed for years before the pandemic, COVID-19 accelerated its acceptance and infrastructure.
Telemedicine has enabled a wide range of healthcare facilities, from hospitals and outpatient centers to ambulatory care units, to optimize care while minimizing exposure to COVID-19 and viral transmission.
The pandemic posed enormous challenges in healthcare, but it also opened huge opportunities for positive change, including a growing uptake in telemedicine. Now more people are using telehealth than ever before.
While telehealth can't help true emergency patients per se (a very sick person obviously needs in-person emergency care), there are other ways it helps to alleviate overcrowding.
In 2019, a research paper on Telemedicine Adoption and ED Care Delivery Efficiency, put forward the hypothesis that:
"Telemedicine application can improve physicians' efficiency through transportation time elimination and smoother workflow.
"Telemedicine makes it possible for EDs to increase capacity and service rate via flexible resource allocation."
This research paper also highlights the fact that telemedicine can "improve ED operational efficiency by reducing patients' length of stay."
If patients can be effectively monitored remotely, they can possibly be discharged sooner.
Another paper on telemedicine services (TMS) during the pandemic, discusses how "TMS can be a powerful gate-keeping and coordination mechanism to ensure the more appropriate use of provider offices, emergency departments (EDs), and hospitals."
Potential TMS benefits include:
remote patient examination without medical staff presence
robotic telemedicine with camera, screen and medical equipment controlled by doctors and nurses
remote monitoring using a thermometer, blood pressure instruments and pulse oximetry
These advances in patient engagement have the potential to help reduce the number of patients turning up at EDs.
Virtual healthcare is also helping rural communities. People who live in remote areas now have access to better healthcare via telemedicine. In the long term, this could be significant in helping to reduce the chances of chronic health emergencies.
2. Keep patients informed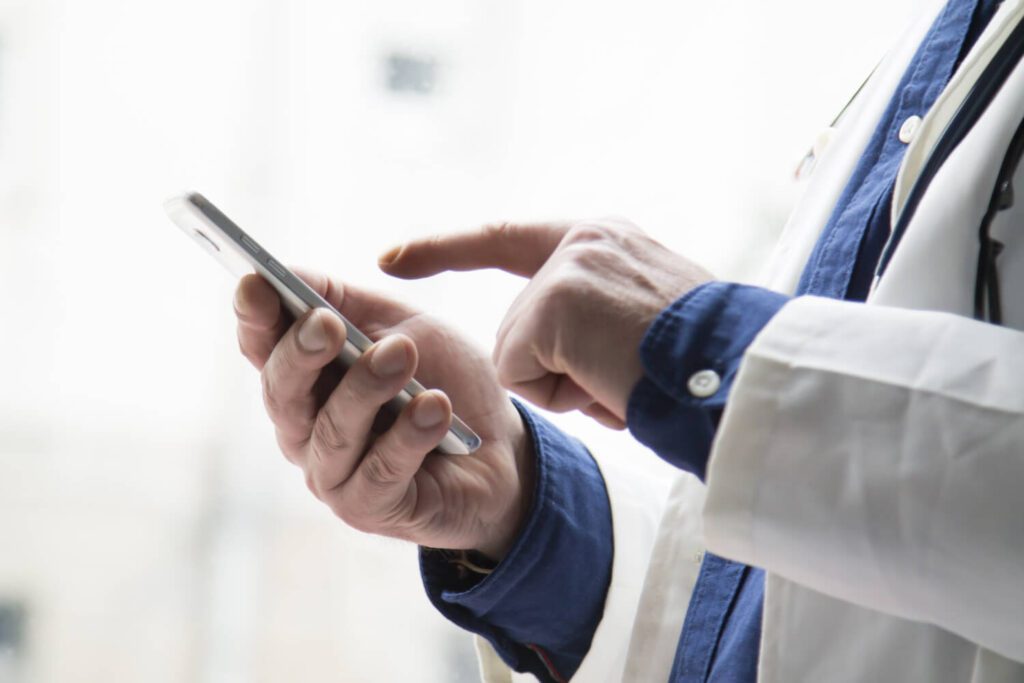 There's nothing more frustrating for a patient in the emergency waiting area than not knowing what is going on. The less information a patient is given, the more likely they – or family members – will be interrupting staff and workflows to find out when they will be seen.
Patient engagement solutions enable providers to send text updates about treatment wait times and give real-time information about the facility and capacity.
Even if wait times are long, reassurance and information can reduce stress for patients, and prevent staff from being interrupted unnecessarily.
This is especially important during the pandemic. Chronically ill patients will be feeling anxious about catching COVID-19 while at the hospital. All virus-transmission protocols can be communicated to compos-mentis patients via text.
Effective and efficient communication as part of a wider patient engagement strategy will help to minimize stress for both patients and busy staff. It creates a smoother healthcare experience for all.
Education is another key area to be considered. How many patients turn up at EDs when they shouldn't be there? Some patients have become accustomed to accessing care via emergency rooms, purely for convenience. This can be tackled by better information and improved access to primary care.
Better patient engagement during primary care will also prevent some emergencies. This will also help to reduce overcrowding in EDs. Simple things like appointment reminders to keep patients on track with their care could prevent a deterioration in health and an ED visit.
3. Reduce unnecessary overcrowding with patient flow software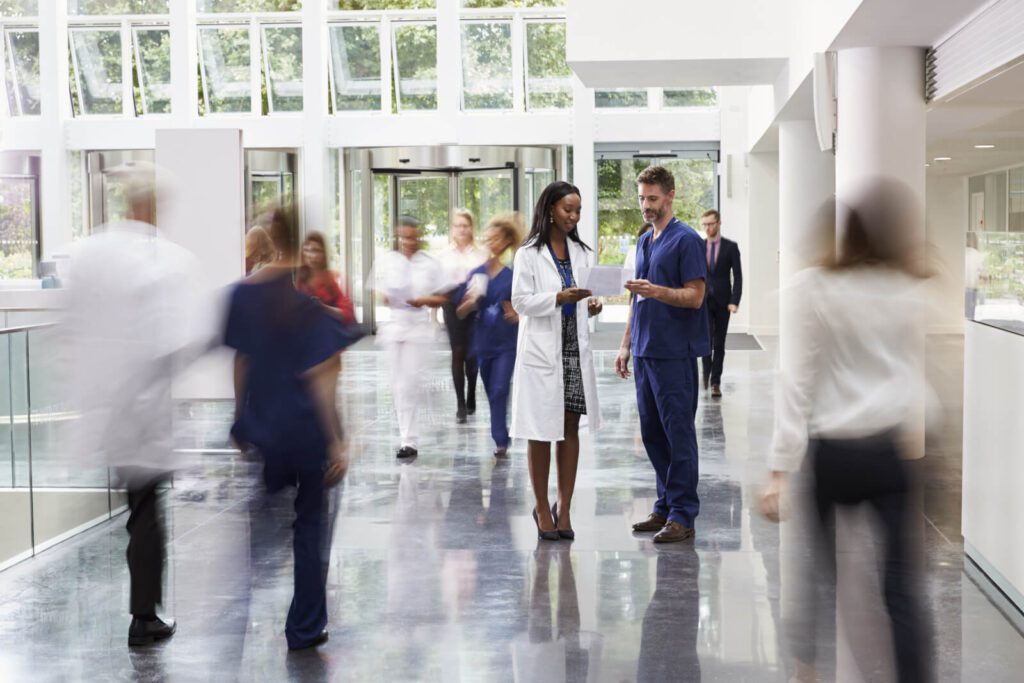 Creating an optimal environment and efficient flow for patients is critical for improving overcrowding in EDs.
Patient flow software (a key feature of many patient engagement solutions) offers real-time information about the whole facility. This means patients can be moved from the emergency room to in-patient beds more efficiently. Clear visuals enable bottlenecks and problems to be quickly identified so that solvable hold-ups are dealt with sooner.
This also helps to prevent admitted patients from being temporarily housed in the emergency department, which clogs up the system.
Using patient flow software, care providers can offer a fast-track system for minor injuries in another part of the hospital, using nursing staff, thus reducing unnecessary crowding in ED, and reducing the workload for physicians and specialist care teams.
4. Improve discharge process and prevent readmissions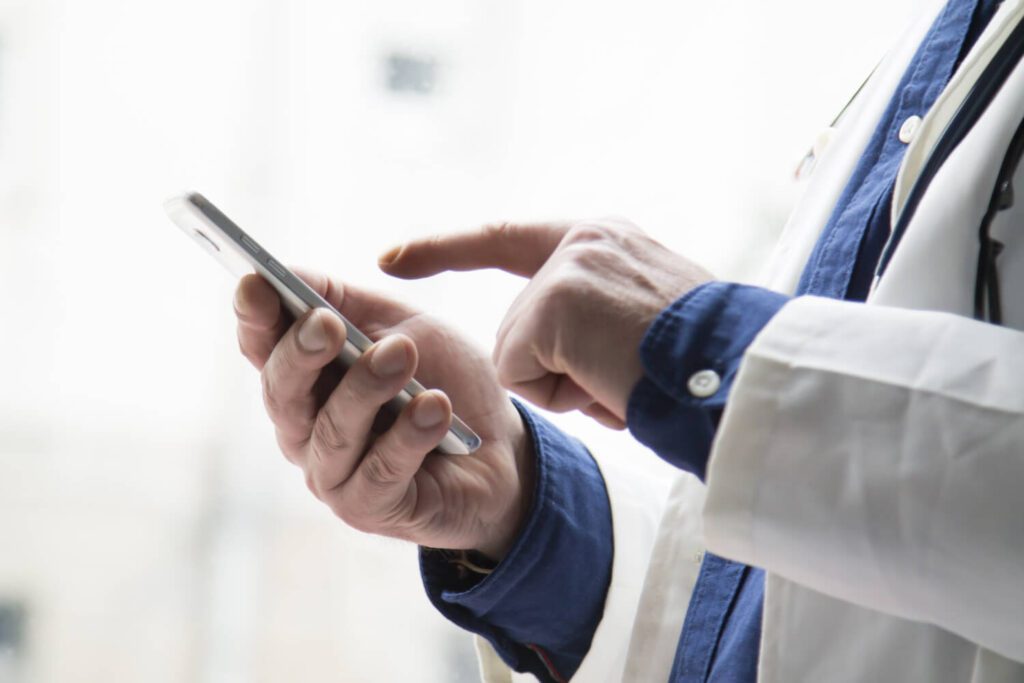 For ED patients not being admitted, improved patient communication can speed up the discharge process.
Texting patients discharge information and procedures they need to follow over subsequent days at home can save readmissions. Medication reminders via text are especially pertinent to the elderly population, or those with memory or cognitive difficulties.
The more efficient and effective a hospital's discharge process is, the better the flow throughout the entire facility.
Better engagement with patients during outpatient treatment and identifying patients at risk of admission in their homes can also help to prevent hospital ED visits.
5. Use data and predictive analytics to ensure timelier patient access
Predictive analytics alert clinicians and caregivers of the likelihood of events and outcomes before they occur. This enables better planning of staff and resources, as well as the potential for linking with other providers to solve capacity issues.
Data analytics can be used to direct and adjust workflows in real-time.
Conclusion
ED overcrowding can impact patient satisfaction significantly, as well as lead to poorer health outcomes. Too many patients seeking emergency care at once can lead to delays in pain medications, as well as delays in antibiotics, and the risk of death is higher when the emergency care department is swamped.
Stronger involvement of patients in their care journey addresses many niggles, reduces stress, and can help to prevent ED visits and readmissions. Most of all, patient engagement solutions and data analytics keep a finger on the pulse of patient flow. And for overcrowding in EDs, this is the ultimate goal.
PatientTrak is a leader in patient engagement solutions for any healthcare setting, including hospitals and multi-facility healthcare systems.
Book a demo now and we'll show how our solution can help to improve patient flow.