ACL Laboratories benefit from Online Scheduling, Kiosk Sign-in and Tracking
Recognized as one of the leading laboratory services in the country, ACL Laboratories, jointly operated by Wisconsin-based Aurora Health Care and Chicago-based Advocate Health Care, provides services to 26 hospitals, 2 central laboratories and more than 110 system clinic settings and patient service centers.
In order to scale for growth and ensure HIPAA compliance during patient arrival, ACL partnered with PatientTrak system for online scheduling, patient sign-in, staff notification, wait time tracking, patient flow and staff efficiency reporting.
Products used


Text Appointment Reminders



35
Locations across the metro Chicago area
53,000
Monthly patient visits
24/7
Scheduling for patient services
Challenge
ACL Laboratories knows that HIPAA compliance, patient wait times, staff efficiency and reducing costs are all important requirements for their laboratory business to be successful and grow.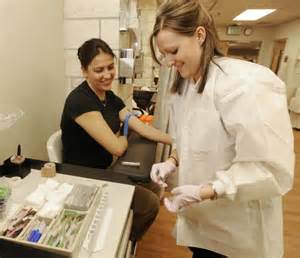 That's why they selected PatientTrak as their standard for online scheduling, patient sign-in and tracking at all of their greater Chicago Outpatient Centers.
Solution
Patient wait time is recorded and average wait times and other service level times are captured and made available through PatientTrak's built-in reporting.
Management also uses the system to track staff productivity and individual location loading in real time. Patients arrive at ACL and are greeted by an easy-to-use kiosk that asks them their date of birth, reason for visit, and logs them into the system.
Results
The visibility provided by PatientTrak reduces ACL's costs and wait times while increasing staff productivity and Patient satisfaction.
PatientTrak has saved ACL over $3 million dollars in operational costs to date and reduced HIPAA liability significantly.
"PatientTrak has increased our staff productivity and reduced our costs and wait times It provides us valuable information about our operations that we never had access to before."
Michele Skinner, Sr. Director Ambulatory Operations