Epic App Orchard Integration
PatientTrak Text Messaging is integrated with Epic as an App in the Epic App Orchard. The PatientTrak App allows Epic users to send text messages to both patients and family members to keep them informed of care progression.
Sending text message updates to patients and family members during the care delivery process dramatically increases patient engagement and overall satisfaction.
Epic customers can seamlessly communicate with patients and family members saving them time and improving the flow of patients through their facility.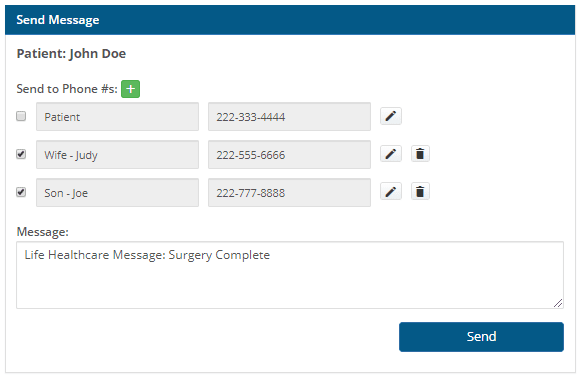 Text Message During Care
Store patient and family member phone numbers as needed and send text messages during care progression. All messages are time and date stamped for future reference.
Set-up a virtual waiting room to communicate and manage patients outside of the facility.
Send unique messages to patients and family to improve engagement and the patient experience.
Case Study – Akron Children's (Is this link still needed?)
Reduce Anxiety and Increase Satisfaction
The integration offers PatientTrak and Epic customers a more coordinated experience so they can message patients with a single sign-in and store mobile phone numbers for use during that visit and beyond. The main use cases of the App are:
Patients: Healthcare providers can send text messages to find, inform and direct patients during the care process, increasing staff efficiency and patient flow. Providers and staff can stay connected to patients and free them from the waiting room.
Family Members: Surgical centers desire to keep family members informed when their loved one (the patient) is in surgery. Simple, logistical messages like "procedure started," or "patient progressing normally," or "surgery complete," reduce family anxiety, while freeing them from the waiting room. The App can also be used to send messages that direct family where to go when the surgery is complete.