In a COVID-weary world, can we dare to dream about a post-COVID future?
Especially since it's likely that COVID variants of some form or another will be around for a while.
That said, two years into the pandemic, we are rapidly moving towards a new learning-to-live-with-the-virus chapter. The vaccines offer hope and protection. Now healthcare systems have survived the initial crisis; healthcare providers are learning to adapt.
So, what does this all mean for the patient experience? What will the 'New Normal' in healthcare look like 5 or 10 years from now?
This blog looks at the most significant changes to the patient journey during the pandemic and considers ways the patient experience might evolve in the future.
The patient journey has significantly changed during COVID.
The rise and rise of digital technology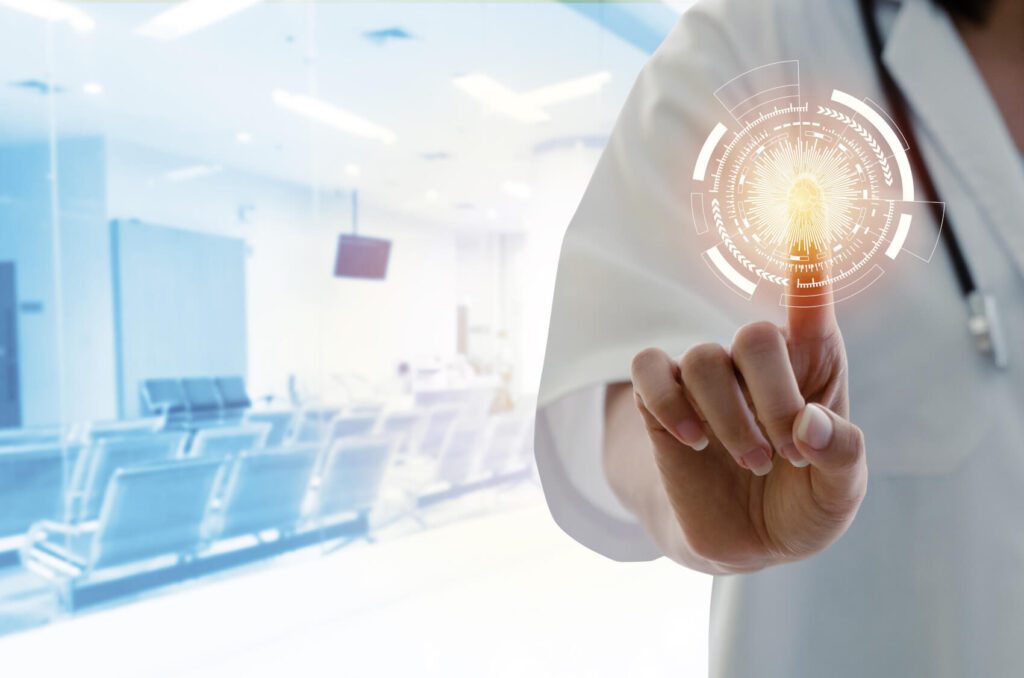 Digital technology has long played a role in healthcare, but its adoption over the past two decades has been slow and somewhat piecemeal. During the pandemic, that all changed.
The concept of a 'digital front door,' which uses technology to improve the patient experience at every touchpoint on the patient journey, exploded. During the pandemic, through technology, face-to-face contact has been minimized to keep providers and patients connected and safe.
Using patient engagement platforms, patients can schedule appointments online, view wait times, receive information, such as medication and appointment reminders, and much more.
Healthcare has lagged behind other sectors in transforming digitally, but the pandemic has acted as a catalyst. During the pandemic, consumer priorities also changed.
A McKinsey survey of U.S. consumers found that many spent the past year trying new brands and channels, adopting in-home alternatives (as opposed to out-of-home activities), and shifting to online and omnichannel engagement.
Consider how patients now check in to outpatient centers. This has changed beyond recognition. A virtual waiting room now enables patients to check in from outside a facility via text or an App. Patients receive a simple text to let them know when they are ready to be seen.
Telehealth
Another practice that has grown exponentially during the pandemic is Telehealth. It is now a major practice across the globe. Patients have been able to access the care they need from the comfort of their own homes, using technology via mobile or other devices.
Telemedicine transformed lives during the pandemic – people could access care without long journeys, travel expenses, or long waits in busy healthcare facilities.
For many, who were too scared to venture out, it offered a lifeline and kept treatment protocols alive.
Before the pandemic, issues with regulation and reimbursement prevented telemedicine from being fully realized, but regulatory changes have helped the new wave of Telehealth in the U.S. materialize.
Two ways the patient experience might look different in the future
Technology is moving so fast it is difficult to imagine how the healthcare landscape will look in 5 or 10 years from now. Aldous Huxley's Brave New World comes to mind, but perhaps a magic pill to regulate health and behavior is a prediction too far.
What we know for sure is that the future patient experience will increasingly involve technology.
Medical 4.0 is happening, and a SMART connected healthcare is coming.
1. The digitized health experience
One of the few good things to come out of the COVID pandemic is the accelerated adoption of digital healthcare solutions. How patients access healthcare, how providers communicate with patients, and many touchpoints in the patient journey have been altered.
Patient flow and patient engagement software have become essential for connecting with patients and ensuring their safety.
Accenture's Digital Health Technology Report 2021, asserts "Eighty-seven percent of healthcare executives agree that their organization's business and technology strategies are becoming
inseparable." And that, "Seventy-three percent of healthcare executives say that their technology architecture is becoming critical to the overall success of their organization."
Two key things are driving the new digital transformation in healthcare. Firstly, the range of digital health solutions is growing astronomically, so providers now have a lot of choice. Secondly, the pandemic has acted as a catalyst for the uptake of technological solutions and for reimagining the patient journey.
One example is the introduction of the virtual waiting room, which has proved a highly successful workaround. It's likely to stay because it is less stressful for patients but also improves flow efficiencies.
Another benefit is that it increases capacity inside facilities, so larger waiting room spaces can be reconfigured for other uses.
The digitized journey and remote monitoring will increasingly become the norm. Real-time data and predictive insights will continue to support a more collaborative approach across different specialist facilities. Artificial intelligence (A.I.) will be used to manage routine processes like employee health screenings via virtual patient assistants.
Telemedicine will continue to play a big part in the future. It's convenient and increases access to care from a distance, which is especially helpful to people living in rural areas. It's also a cost-effective solution for providers. The only downside is the inability to carry out a physical examination.
But even there, advancements are looming. Research suggests that some physical examinations will in the future be performed either with an assistant beside the patient or aided by sophisticated devices such as video otoscopes, electronic stethoscopes, and dermatoscopes.
2. A new dawn for preventative health and personalized care
Patient engagement has a hugely important role to play in disease prevention. The future patient experience will guide patients to play an active role in managing health. Rather than dealing purely with sickness, a futuristic healthcare system will also trade in personalized health coaching and wellness.
This will include advice on nutrition and exercise and coaching on other areas that impact health, such as sleep, mental health, weight, and making healthier lifestyle choices.
Much of this will be digitized via patient portals and SMART wearable devices – ones that measure sleep REMs, heart rate, blood pressure, breathing, weight, and levels of activity.
Remote teams and even A.I. bots will monitor health pathways and intervene with coaching tips or automate invitations for diagnostics and physician appointments when necessary. Patients will be able to engage with these services 24-7 via an App on their phone.
A more joined-up approach to care is evolving. Information will be shared between specialists in an instant, enabling a network of connected care.
Growing concerns about climate change, the fact that we are in the middle of a pandemic, economic instability, politics, and the current epidemic of chronic health make predictions about the future of healthcare difficult. As we have seen from the pandemic, so much can happen in a short time to invoke radical change, so who really knows what the future will hold.
Whatever happens, future healthcare leaders will be the ones who embrace technology. Those who don't will get left behind.
PatientTrak offers world-class patient engagement solutions for any healthcare setting, including outpatient and ambulatory clinics, large hospital groups, and multi-facility healthcare systems.
Get in touch to get your digital journey started.